Schema Pro provides global and page level settings.
Global settings are available in the dashboard under Settings > Schema Pro. You can add new schema types and configure other plugin options.
Page level settings are available on the individual pages/posts. Read about page-level settings here.
Administrator user role have access to both type of settings. But sometimes you might need to share access with other user roles too.
Schema Pro offers a custom code that lets you add access to other roles as well.
The thing to note here is – you can only share access for page-level settings to other user roles.
Example – Job Posting schema settings on single page –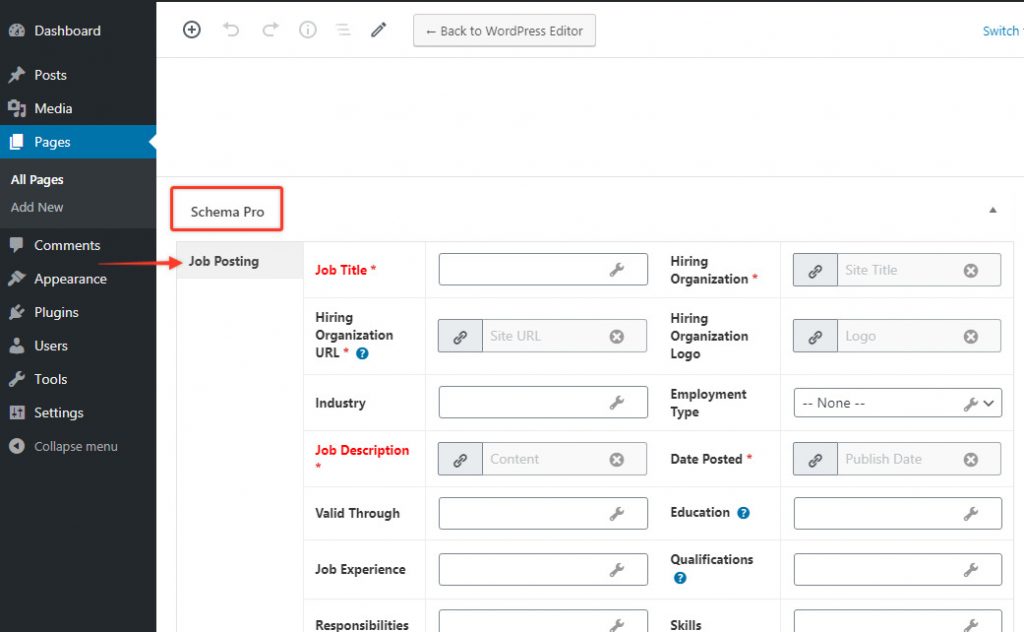 Let's see how it works –
Add following custom code (filter) to your child theme's functions.php file with appropriate user role. Following code works for 'editor' user role.
add_filter( 'wp_schema_pro_role', 'function_name');
function function_name( $roles ){
$new_roles = array('editor');
$roles = array_merge($roles,$new_roles);
Return $roles;
}

You can use any of the following user role as per requirement-
editor
author
contributor
subscriber
You can add more than one user role separated by a comma. Example – Using editor, author contributor in following code –

add_filter( 'wp_schema_pro_role', 'function_name');
function function_name( $roles ){
$new_roles = array('editor','author','contributor');
$roles = array_merge($roles,$new_roles);
Return $roles;
}