Schema Pro comes with a set of settings that gives you the flexibility to change the way the plugin and corresponding markup behaves.
Whether you want to see the test link to appear, choosing the arrangement of the plugin on your dashboard, or changing the location of your Schema markup code, it is all there.
Let us take a look at the Plugin Settings section.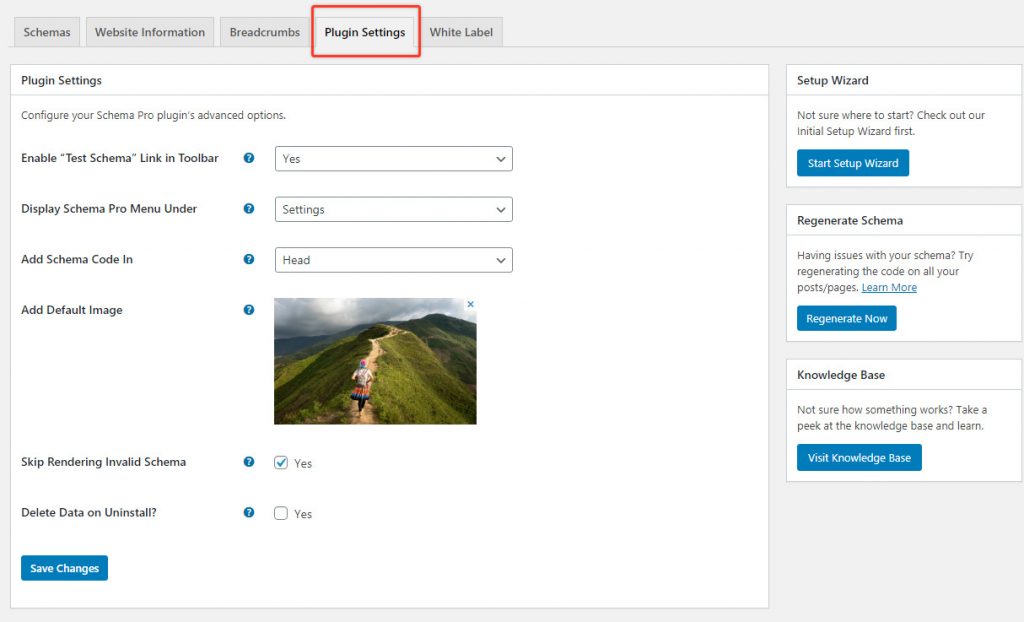 To open the settings page, you need to click on Settings > Schema Pro > Plugin Settings.
Here's what each option is for:
Enable "Test Schema" Link in Toolbar
Google provides a testing tool that can be used to test schema applied on a particular web-page or in a snippet. Schema Pro brings this link right to your admin bar. Read more in the article here.
Display Schema Pro Menu Under
With this option, you can decide the position of the Schema Pro menu in your dashboard. By default, the Schema Pro menu will display under the Settings tab. You can choose another position from the list.
Add Schema Code In
Configuring this setting in Schema Pro, the plugin will generate a code that is based on your preferences and values. This schema code can be added to your website code in the header or footer area. With the option 'Add Schema Code In' choose a location where you wish to add schema code.
If you are not sure what to choose, leave it to default – Header option.
Add Default Image
By adding a default image, it will work as a fallback whenever there are missing featured images. So, when the page/post is shared and does not have a featured image, the default images will be the one displayed.
You can choose an image with a size of around 1200 × 600 px.
Skip Rendering Invalid Schema
In case you miss filling any required fields in schema settings, will generate invalid schema. With this option you can restrict rendering of invalid schema. Read more.

Delete Data on Uninstall?
If you enable this option, Schema Pro will erase all its data from your website when you delete the plugin.
In case you wish to reinstall plugin and keep all Schema Pro setting intact, it is best NOT to enable this.