Easily make your company visible and reachable to your customers and visitors with a Corporate Contact markup. A Corporate Contact schema allows you to add your company's contact information in the markup. This information will appear in the Google Knowledge panel in relevant searches (like when a user searches for your company).
Make your contact and company information readily available on the front page of Google with Rich Snippets like these: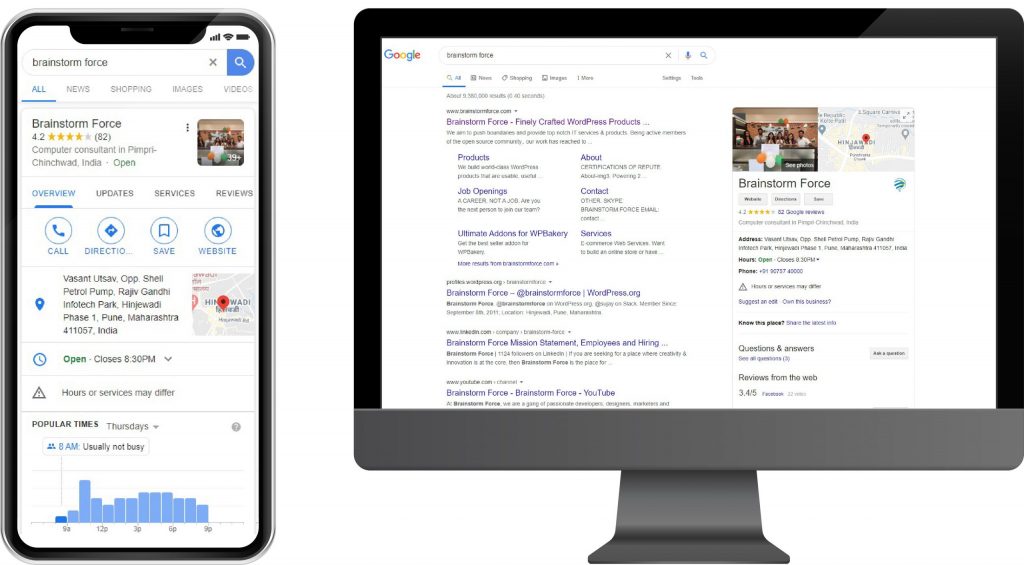 With your Schema Pro plugin, you just need to add this to your website once, making it a global option. No need to repeatedly add the codes and settings on multiple pages.
How To Add Corporate Contact Schema?
For you to be able to add these settings, first head on to the WordPress dashboard. From the WordPress dashboard, navigate to the Settings > Schema Pro > Configuration Tab > Corporate Contact.
What Do These Settings Mean?
Here's a list of the Schema Properties that you need to fill in for the Corporate Contact Markup type.
Contact Type (Required): Choose what kind of contact point you wish to set – a sales contact point, a customer support contact point, and so on.
*Since this is the main point of adding your Corporate Contact Schema, Google will not be able to display your information properly if this is not filled in.
Contact Page URL: The URL for your website's contact page.
Email: Your company's contact email.
* You can add any contact email that you like, however, it is recommended to not add a personal email and only add your official company email address. Just to make sure you keep the spam and bots away.
Telephone (Required): Your company's international phone number, including the Country Code and Area Code. (e.g., +1 for the US and Canada.)
* Be sure to add your company phone number to avoid getting unsolicited phone calls.
Area Served: The geographic area where your services and products are offered and available.
Available Language: The language/s available or accessible to your potential customers or clients.
Contact Option: How your clients/customers can contact you. Example: a toll-free number or support for hearing-impaired callers (e.g., a toll-free number or support for hearing-impaired callers).
Once you've filled this out, you're all done. Search engines like Google will now be able to display rich snippets with your company contact next time someone searches for your site.
How To Test Your Corporate Contact Schema?
Since waiting for Google to index and crawl your newly added schema, it might take some time before your snippets show up. The most effective way to test if your schema works is to test it with Google's Structured Data Testing Tool.
Just plug in your content's URL and Google will tell you all the schema markup it finds on the page:
Once you are able to verify that all the information that you put in is there, you can be rest assured that the next time Google crawls your site, you will be able to see these snippets.
If want to see more schema types and options, check them out here.