We all know the importance of schema markup and how it is one of the essential parts of websites nowadays.
Search engines, especially Google try to understand your website better with the help of structured data or schema on your website. And they reward your website with rich results.
Here is an example of a product review in search results and how rich results can be generated for it. Besides basic information like title, description, URL you will observe advanced details like star ratings, reviewer, site links, date, and so on.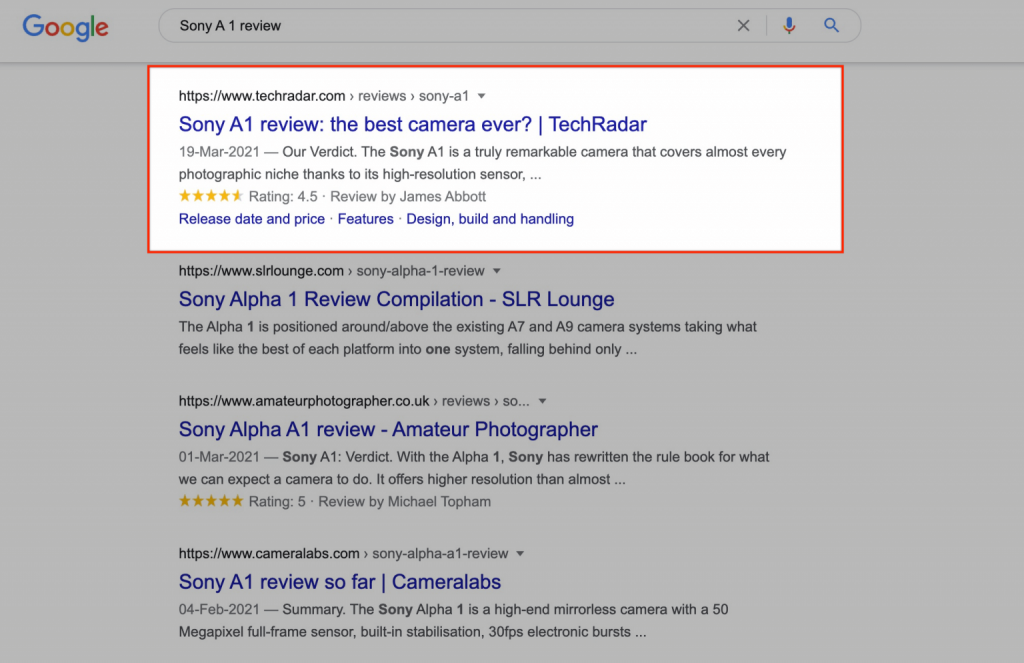 You might have observed such rich results when you search for products, reviews, recipes, flights, restaurants, jobs, people, concerts, etc. There are different types of rich results!
Google has a dedicated documentation that describes type of schemas that can generate rich results.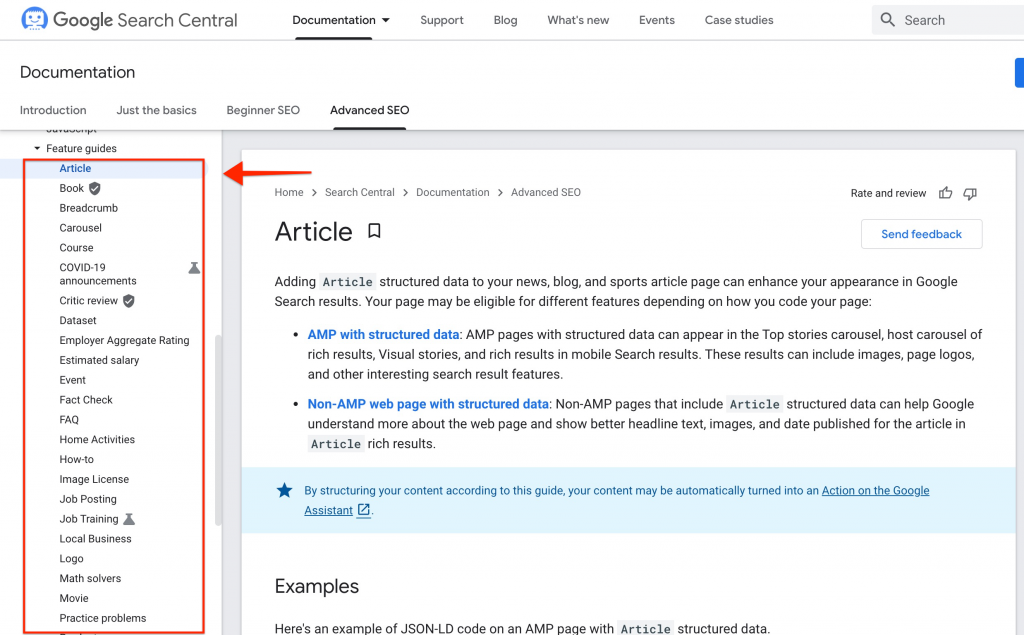 Of course, with Schema Pro you get your own schema solution for websites where you can easily configure schema.
But, there is a catch.
If you go to Schema.org, which is the official website for Schema, then you will observe that they support 779 types of schema at this date!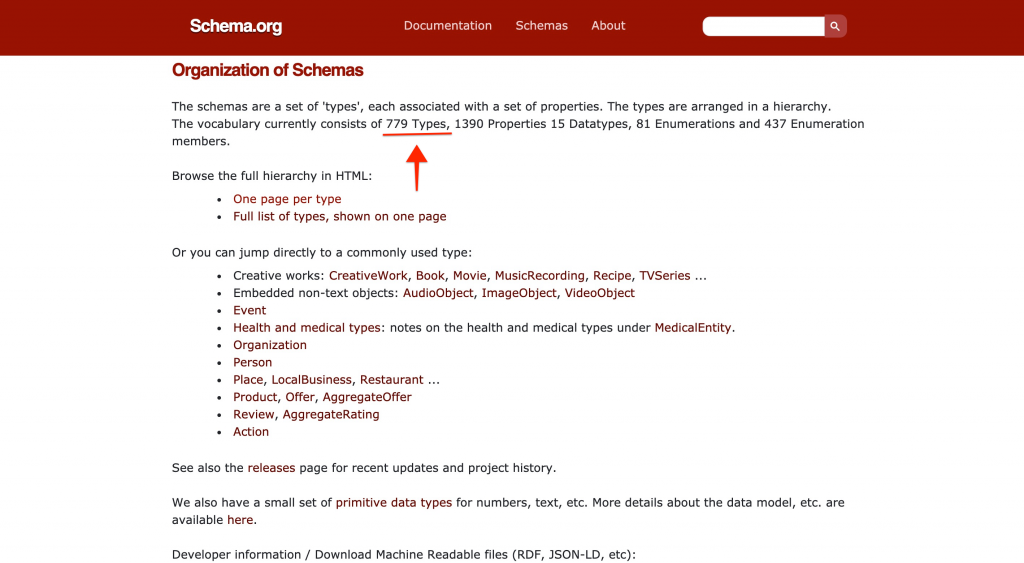 The important thing to understand here is that Google supports all 779 types of schema, but it returns rich results only for the types present in their documentation. While you can certainly add schema markup from Schema.org to your website but they may or may not generate the desired rich results. That being said, they will definitely help search engines understand your website better.
On the other hand, if you don't find the related schema type with Schema Pro, you can copy it from Schema.org and add it to your website.
Now, the next obvious question is how to add this schema to your website. And the answer is get the custom code for your schema and add it to your website.
You can add it manually to your website or opt for an external plugin. There are plenty of plugins available in the market that lets you add custom schema markup. But with such plugins, it's tough to add schema at specific locations on your website. Especially if you are a non-coder, working with a custom schema can be a real hassle. Also an extra plugin is always a load on the website.
Schema Pro already provides you with the easiest methods to add schema.
Additionally it now introduces a new feature – Custom Schema Markup.
This is an amazing option because not only do you get the option of adding custom schema markup to your website, but you all get all the benefits of Schema Pro with it. This means granular targeting options, easy modification of schema on a per-page-basis, and even custom field support!
How is this done? Check out our detailed video tutorial on how to add a custom schema to your website.
Prefer the written version? Let's continue –
Custom Schema Markup Option with Schema Pro
As we understand, our website schema should be able to serve valid and filtered information to search engines. This way, search engines can better understand your website, which will ultimately help your website achieve a higher search results position.
Schema Pro is a revolutionary plugin that has broken down and really simplified this complicated process. It helps website owners add schema to their websites with ease.
Going a step further, Schema Pro now offers the freedom to add a custom schema of your choice.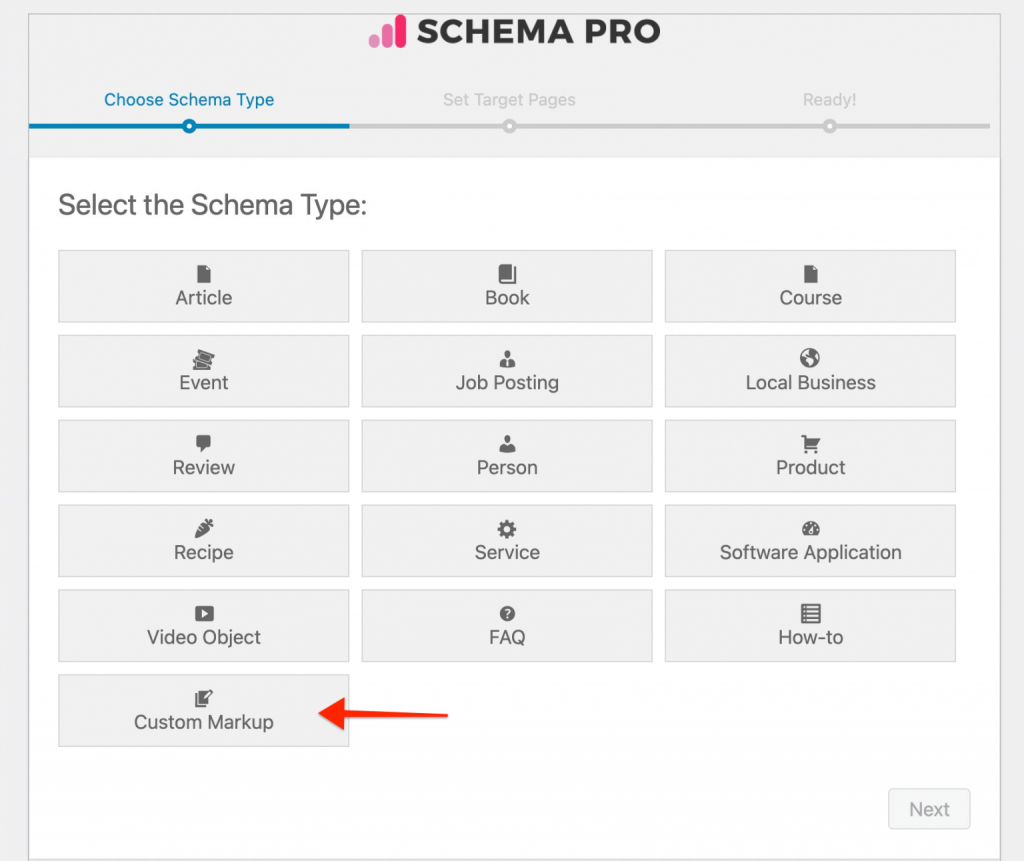 Here are some reasons why you will love this new feature,
No third-party plugin required: This option comes native in Schema Pro. So you needn't install an extra plugin to include your custom code.
The easiest way to add custom schema code: Schema Pro is popular for its ease of use. Continuing with this, Schema Pro offers an easy process to add custom code. You can paste your code to a dedicated box and choose a location.
Apply global as well as page-specific custom schema: You can choose to apply custom schema to multiple locations at a time. Or configure it on individual pages/posts.
Powerful target rules: Schema Pro offers powerful rules to add your custom schema. With a combination of settings, you can target the exact location on your website from one place.
Integration with third-party custom fields plugins: If you are using any plugin to add custom fields, Schema Pro will automatically detect them. It will make custom fields available in the custom markup box. You can choose and add custom code from the custom field directly.
Clean code: Schema Pro does not add any extra code along with your custom code. This helps to keep custom code clean and lightweight.
Excited to see how to use this option? Let's dive in!
Add Custom Schema Markup with Schema Pro
Before we start, we are assuming that you have installed and activated the Schema Pro plugin.
Step 1: Enable Custom Markup
The first step is to enable custom markup.
Head over to Settings > Schema Pro and click on Add New.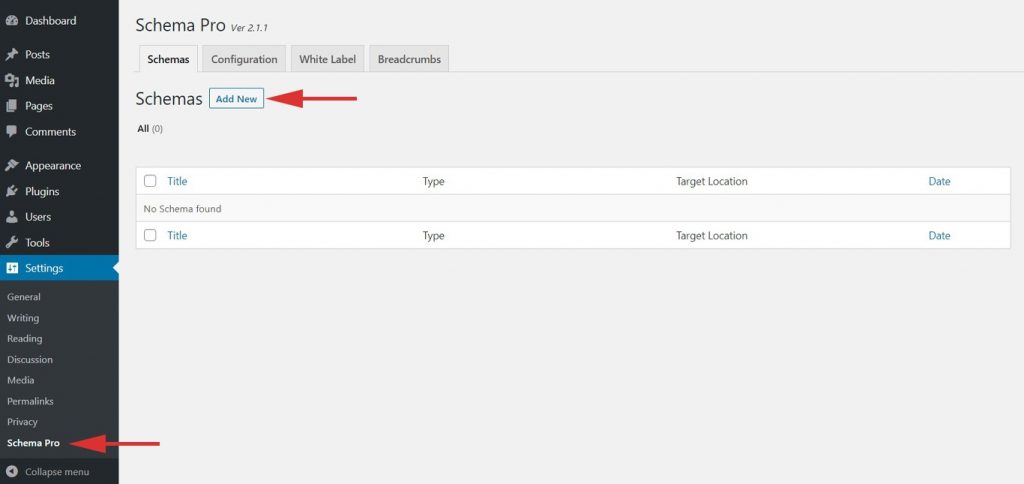 Then select Custom Markup and click on Next.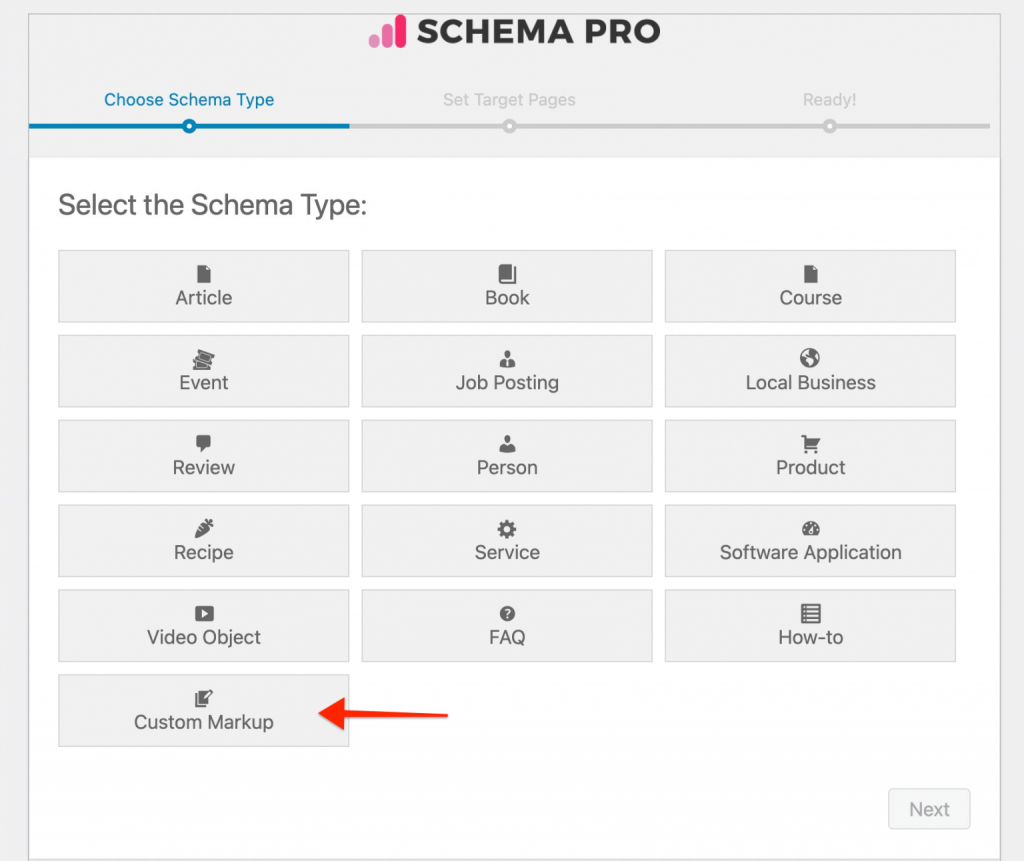 Step 2: Select Target Location
The next step is to choose the location where you wish to apply the custom markup.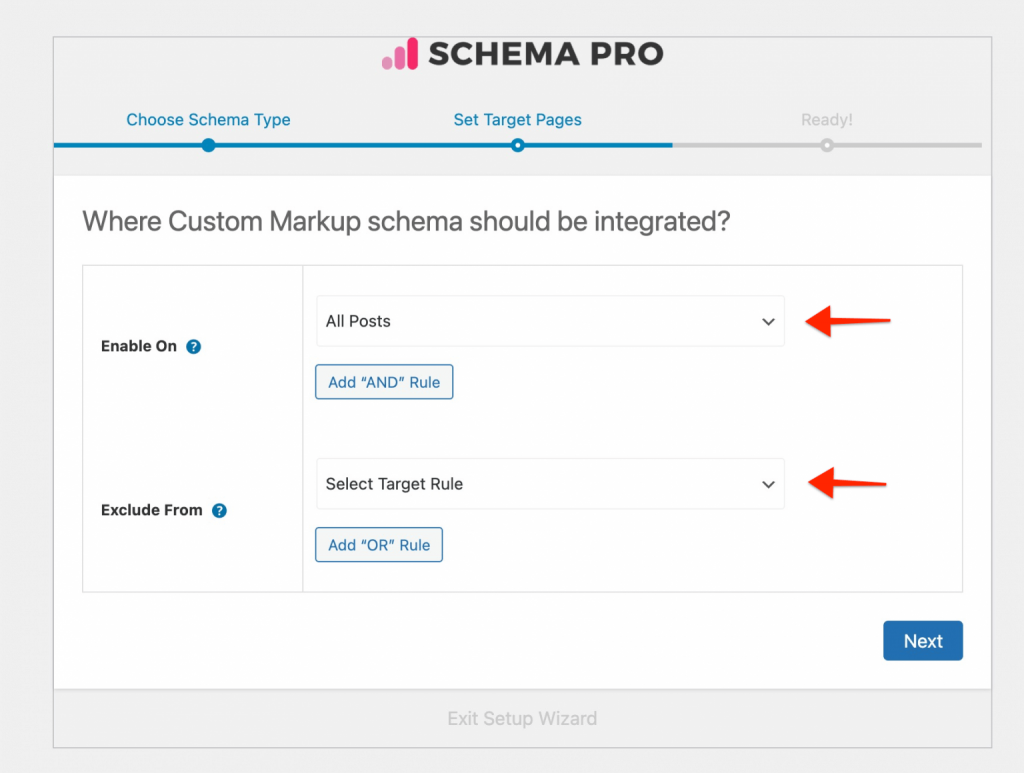 Select the target location from the options under Enable On.
You can choose from pages/posts/categories and other locations. You also have the option to exclude specific locations from the Exclude From option.
Once you are done, click on Next and complete the setup process.
Step 3: Edit Settings
You will be directed to a dedicated settings page for custom markup.
You can choose to add custom markup globally across a selected target location or choose to add it on individual pages/posts.
To add it globally, select the Custom Markup > Fixed Text option.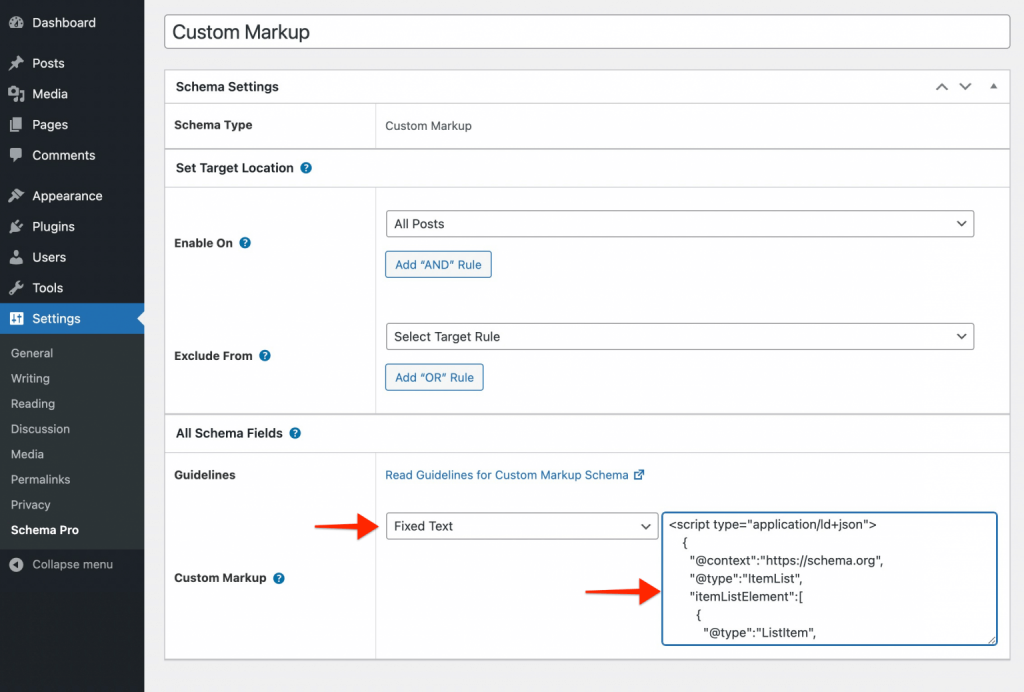 Add your custom schema markup code in a box. This code will be applied to the selected target locations.
To add it on page-level, select the Custom Markup > New Custom Field option.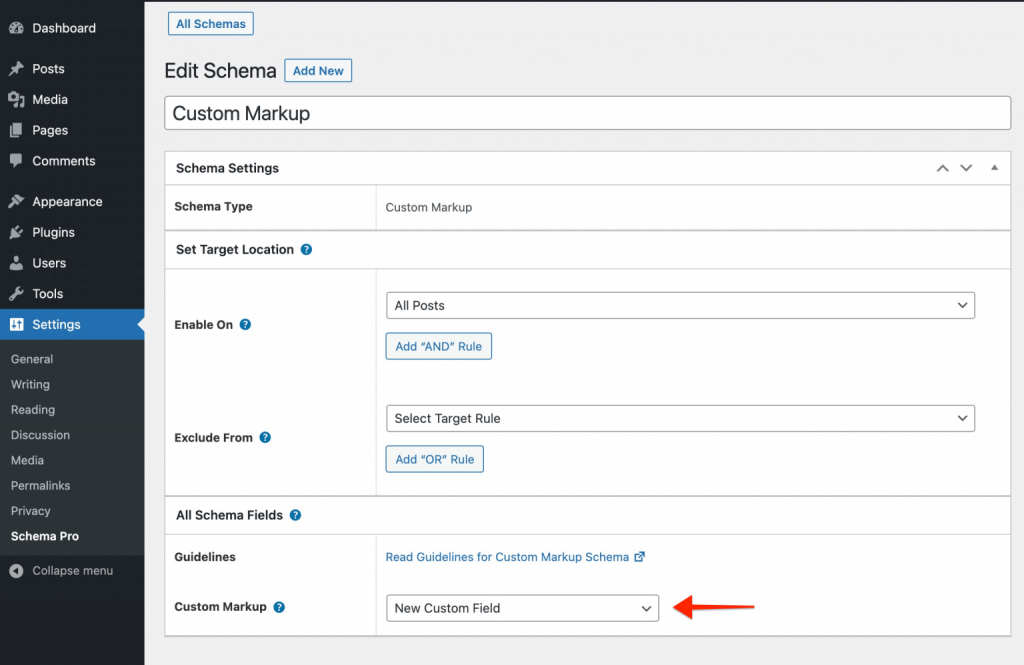 Now a dedicated custom schema box will be available on target locations.
Go to the specific page/post and edit it. Scroll down to the bottom of the page, and you will observe a new box named Custom Markup.
Here you can enter your custom schema code and save the page.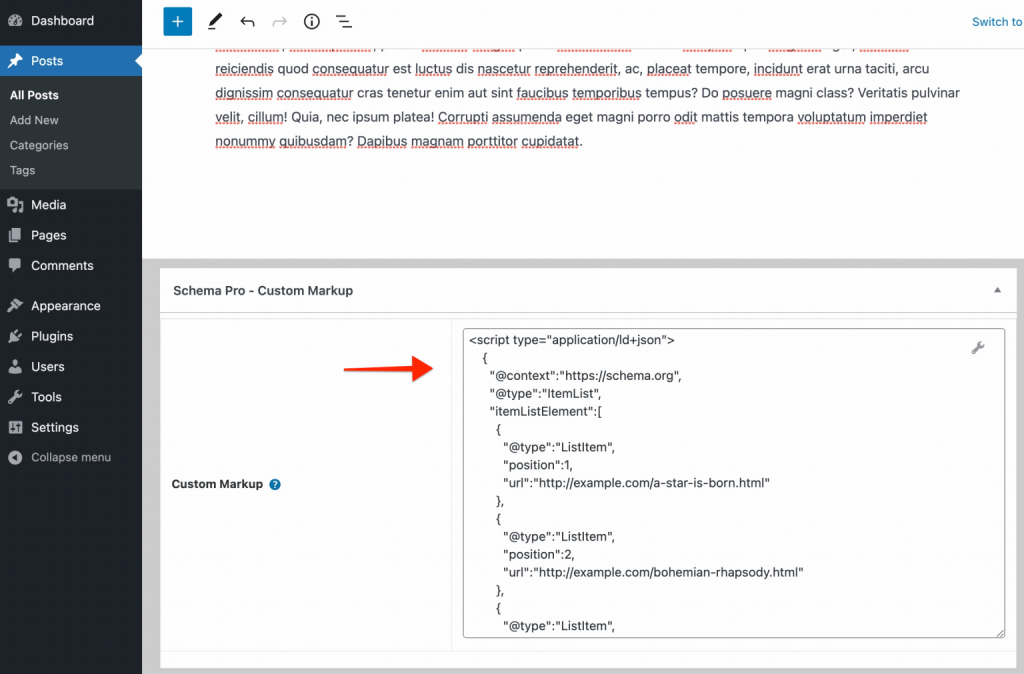 Done! You've just added your custom scheme code.
Go ahead and test this schema using Schema Testing Tool to ensure you've added a valid format.
Note: If you are not sure how to write custom schema code on your own, you can use online schema generators like Microdata Generator. There are many free tools available in the market and you can choose the one you like. Most of the tools give you a simple form where you can add required information and the tool creates schema code for you. You can paste this schema code with Schema Pro – Custom Markup option.
Update Schema Pro Today!
We're guessing you are excited to give this new handy feature a shot.
Just update Schema Pro to the latest version and start adding custom schema markup quickly.
For your reference, we've included a link to our knowledge base on Add Custom Schema Markup With Schema Pro.
As always, in case of any questions, do write to our support team.
Let us know how you like this latest update in the comments below.
Until next time, cheers!