If you have just started your own blog, first welcome! You're joining a community of millions of like minded people all sharing their stories online.
That community is a good thing but also a challenge. If your voice is one of millions, how can you be heard? How can you attract an audience?
One powerful way is to optimize your blog for SEO.
Do that and you stand a far higher chance of being found in search engines.
Google alone processes over 99,000 searches per second. That's over 8.5 billion searches per day.
Wouldn't it be cool if your blog came up in some of those searches?
Optimize your blog for SEO and you just might.
This post will show you how.
What is blog SEO?
Let's begin with the fundamentals. What exactly is blog SEO?
SEO stands for Search Engine Optimization. It involves making your blog as attractive and as relevant for particular search terms as possible.
If a search engine thinks a blog post answers a particular question and it is confident the post offers value, it will be ranked in search results.
The more relevant the search engines think your blog is and the more value it is seen to offer, the higher it will be ranked.
Blog SEO optimization is how we help search engines understand what's on the site, what questions it answers and how valuable it can be.
Why blog SEO matters
So, why is blog SEO important?
The higher a web page ranks, the more clicks it gets.
According to FirstPageSage the position in search results can make a huge difference to the number of visitors you get:
#1 position gets 39.8% of clicks
#2 position gets 18.7% of clicks
#3 position gets 10.2% of clicks
#4 position gets 7.4% of clicks
You see the pattern here right? The higher you appear in search results, the more traffic you get.
That's why blog SEO matters!
Ensure your blog is SEO friendly
Before we get to optimizing your blog content for search engines, let's make sure your blog as a whole is SEO friendly.
Here's a checklist that includes the key points:
Optimize for mobile – Fully responsive websites look good on any screen size. They improve the user experience, which is also used as a ranking factor by Google.
Use an SEO friendly website structure – SEO friendly also means user friendly. Simple, logical navigation that takes users where they expect to go.
Optimize your blog for speed – Fast websites rank better. Fact. Your visitors will also appreciate fast loading pages, so speed is key.
Add unique content – Search engines and visitors both want high value, unique content. They do not want to see the same things they can see anywhere else. That includes AI generated content.
Submit your blog to Google Search Console and Bing Webmaster Tools – Both tools help you see what's going on with your blog and provide tools to optimize and improve SEO performance.
Create and submit a blog sitemap – A sitemap helps users find content and search engines discover your posts and pages. WordPress creates an XML sitemap automatically for you to submit to search engines.
Create robots.txt file – A robots.txt file works in a similar way to a sitemap but is purely for search engines. WordPress creates this file too.
Use SSL (HTTPS) – SSL, Secure Sockets Layer, enables encrypted connections between visitor's browsers and your website. Getting an SSL certificate is now mandatory unless you want browsers to warn visitors away from your blog.
Those are just some of the ways you can ensure your blog is SEO friendly. There are many others which we may cover in a future post.
11 Ways to optimize blog content for search engines
Now we have covered the theory, let's get to the practical. What follows are 11 actionable ways to optimize your blog SEO to get more traffic.
1. Do proper keyword research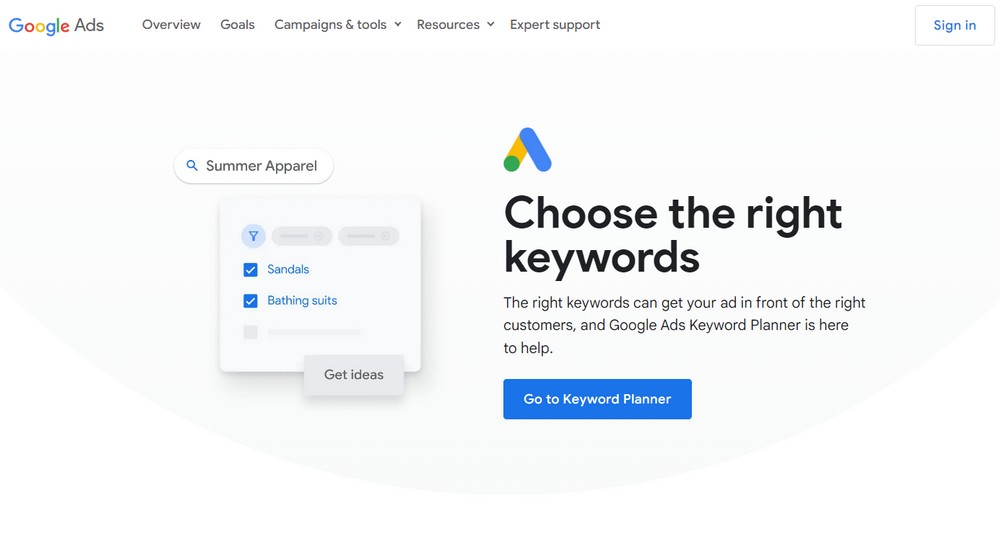 Extensive keyword research is essential for a successful and sustainable SEO strategy.
The process involves discovering topics and identifying search terms that your target audience often types into search engines.
Proper keyword research helps content marketers to:
Generate content ideas – Help solve reader's problems, answer key questions, take a stand on something, make your case. Use your knowledge of your audience to figure out what they want to see on your blog and create content around that.
Find content opportunities – Identify low and high-competition keywords to choose the topics you want to write about. For new bloggers, going with low-competition keywords is best as it increases your chance of ranking well in search results.
Understand keyword competitiveness – Many keyword research tools enable you to see who appears on the search results for specific keywords. They also include information about keyword difficulty, top ranking article backlinks and word count. All will help you understand how much effort is required to rank on certain keywords.
Identify trends – Knowing when people tend to search for a specific keyword is important to generate organic traffic. In general, publishing a high-quality blog post at peak times will help you get a higher ranking on SERPs (Search Engine Results Pages).
If you don't know where to start, consider beginning with your blog niche. This should enable you to branch out and find other relevant keywords with a similar topic or target audience.
Creating topic clusters is a great way to optimize the keyword impact.
Clusters are a group of blog posts that are part of a broader subject and are usually organized around a central page that links to other content.
Some of the best keyword research tools include:
Google Keyword Planner
Ahrefs Keyword Explorer
Semrush
2. Create articles based on search intent
One common aspect of successful blogs is giving readers what they want. Understanding search intent is a key part of that.
Search intent is the core purpose behind a search.
For example, if you searched for 'how to Blog SEO' or something similar and landed on this post, chances are your search intent was to learn how to use SEO to get more traffic to your blog.
We created this post to satisfy that search intent and cover all the topics we think would provide value.
Search intent needs to take into account:
What is the person looking for?
What do they need to know?
What information should the content include to deliver value?
As a blogger, you'll need to understand your audience, how they work and how they are likely to search for something.
Then write your post to deliver everything you imagine they need.
3. Create an article outline
Many bloggers will come up with an idea and begin putting thoughts into words right away.
That can work for some, but it won't work for everyone.
We recommend creating an article outline. It can help you organize your ideas, focus on your target keywords and deliver on search intent.
Here's a copy of the outline we use here at WPSchema.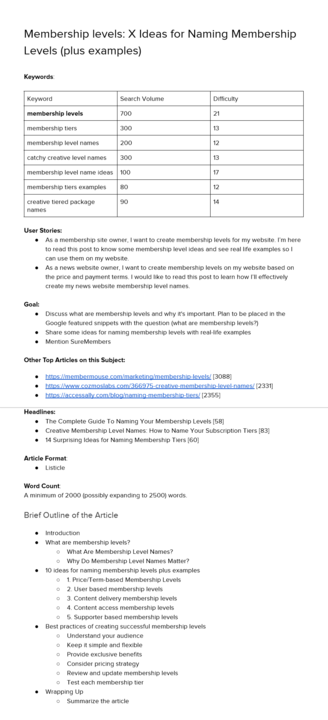 As you can see, we outline what keywords we're targeting, what we imagine a user might be looking for, potential user stories of people who could be searching for what we plan to write and top performers in the same niche.
You'll also notice an outline of the actual post including headings and subheadings and a rough outline of what we'll write.
This helps us organize the content into a logical order and make sure ideas flow from one to another.
You don't have to go into this much detail, but the better you plan, the faster you'll be able to write a high quality post.
4. Write a compelling blog post title
Your page appearance on SERPs impacts users' impressions. Called the search snippet, this element consists of the blog's title, meta description, and URL.

As the largest element in the search snippet, the blog post title should be attractive to trigger clicks.
Here are some tips for creating an effective blog post title:
Keep it short – Ensure your blog post title is not cut off in the SERPs. Search engines will only show the first 50-60 characters of the title on mobile devices.
Make it SEO friendly – We recommend using the focus keyword in your blog titles. Just make sure not to overuse them and keep them natural.
Consider relevance – A blog post title should represent its content accurately. Don't give readers false hope by using clickbait titles.
Don't recycle your title – Make sure to use a unique title for each of your blog posts. Aside from minimizing confusion, it helps prevent duplicate content.
Examples of a great blog title include:
The best ways to make more money from your blog
Why it works: 'The best' is a term people search for all the time. When we want something, we want it to be the best, which is why this works.
The easiest way to make passive income online
Why it works: Who doesn't want an easier life? Sometimes people don't want the best way to do something but the easiest way.
What I learned switching from WooCommerce to SureCart
Why it works: Experience is the best teacher and we tend to use other people's success as a blueprint for our own.
There are dozens of ways to write a great blog title, we recommend you research as many of them as you can.
5. Optimize your meta description
A meta description is a short snippet of a web page. As an HTML element, it enables search engines to understand the blog content better.
The same goes for users, as meta descriptions will appear in the search snippet.
In SERPs, you can find a meta description under the blog title, like the one below:

One of the benefits of creating and optimizing your meta description is an increased organic CTR (Click Through Rate = Unique visits).
Since they act as attention grabbers, meta descriptions can encourage users to click the link and land on your blog post.
Regarding the ideal length, anything under 120 characters is sufficient for a meta description, as Google uses pixels to limit it.
While the desktop pixel limit is 920 or around 158 characters, the limit for mobile screens is 680 or about 120 characters.
Although you don't have to include keywords in your meta descriptions to rank well, it helps with your blog's clickability.
A good rule of thumb is to not let the target keywords hinder your creativity. This will enable you to create a click-inducing meta description with a strong call to action (CTA), leading to higher blog traffic.
If you don't write a meta description for your blog post, Google will craft one for you based on what the search engine understands of the blog content.
6. Add internal and external links
Internal links refer to any link on a web page leading to another within the same domain.
External or outbound links refer to any links that point to web pages on other domains.
A good internal link strategy helps users and search engines navigate your blog easily. From the user's point of view, internal links provide relevant connections between pages.
For example, clicking on the Category hyperlink on the homepage will lead users to the Content Category page. Similarly, clicking on an anchor text within a blog post may take users to another blog piece within the same domain.
From the search engine's point of view, internal links enable crawler bots to discover and index web pages.
Based on the above explanation, external links may seem counterproductive to your SEO efforts.
A good external link strategy can result in higher search engine rankings as it helps show your content's relevance.
Let's review some external linking best practices:
Strategize your use of anchor texts – Make sure the linked text is descriptive so users and search engines can understand the context without needing to open it. Consequently, you should avoid using nondescript anchor texts like "click here," "read this," or "this article."
Link to statistics – Whenever you need to support your statements with data, you can find relevant statistics or other helpful links to back it up.
Only link to credible sources – Linking to questionable websites may harm your readers' trust. Always aim to reference sites with a high domain authority to maintain your credibility.
Don't link to competitors – Never link to competitors as you're trying to achieve the number one position on SERPs for the same keywords.
In addition to internal and external links, backlinks are one of Google's most important ranking factors. Therefore, link building is an off-page SEO tactic you shouldn't overlook.

Backlinks, also called inbound links, take place when other websites link to your page.
Since they're one of the main indicators for high-quality content, blog posts getting a good amount of backlinks typically rank well on Google search results.
For inspiration, some of the best techniques to get backlinks includes:
Networking
Guest posting
Listing your blog on trustworthy directories.
7. Avoid keyword stuffing at all costs
Keyword stuffing happens when bloggers include excessive keywords in their posts in the hope it will make the post rank higher in search engines.
But it's not true.
Search engines are now far too smart for that and won't be fooled so easily.
Stuffing a blog post with keywords doesn't align with one of the main purposes of SEO, which is to satisfy search intent.
Stuffing posts with keywords will lead to penalties from search engines. The search engine algorithms are set to reduce spam and ensure the quality of its top results.
Plus, your human readers will soon notice and will go elsewhere to be entertained. That's arguably a worse outcome!
Avoid all types of keyword stuffing, including:
Visible – Unnecessary repetition and irrelevant use of keywords or key phrases throughout the blog content.
Invisible – The repetitive use of keywords or key phrases in alt text and meta descriptions. Camouflaging words using a white font on a white background also counts as invisible keyword stuffing.
Instead of using the same phrases repeatedly, you can include semantically related keywords to add more depth to your blog posts.
Doing so can also help improve your on-page SEO, as they add more context to the content.
With this strategy, search engines can better understand your blog articles, resulting in better performance in Google's search results.
Remember to always write for real users first and the algorithm second.
This helps ensure an excellent on-page experience for users, which is one of Google's most important ranking factors.
8. Include images and videos
Multimedia elements, like images and videos, can make your blog posts more engaging.
Both of these visual elements can also appear on Google's SERPs as an image pack or a video snippet.
When it comes to using images, be wary of copyright. One of the safest and easiest ways to avoid copyright infringement is by using royalty-free stock images or photographs.
Unsplash, Freepik, and Pexels are some website examples from which you can get stock pictures.
An even better option is to design your own graphics or use custom, original photos.
Video marketing is a powerful tool to boost engagement.
Research found that 94% of marketers agree that videos are effective in helping users understand their products or services.
Another study shows that 91% of businesses will use videos as one of their marketing tools in 2023.
Unfortunately, 18% of the survey respondents state they didn't know where to start with video content creation.
If you are one of them, here are two tips to consider:
Repurpose your blog posts – This is one of the easiest ways to streamline content production. From each of your blog posts, you can make a video script and start recording. The video itself can be in any format, such as a vlog, tutorial, or voice-over.
Hold a webinar – If your blog is part of your small business website, hosting a webinar provides an opportunity to interact directly with potential customers. You can also embed the webinar recording in your blog posts as a lead magnet.
9. Add image alt text
Alt text, or alternative text, is a short description of images that are uploaded to the blog content.
It's included in the HTML code, allowing search engines to understand what the image is about.
Alt text will replace the image if it fails to render completely. Screen readers will also read alt text aloud for visually impaired users, which helps improve their user experience.
Image alt text can help you rank on image search results.
Google Images account for 22.6% of all internet searches. Therefore, optimizing your images with alt text is a great way to increase exposure to your blog posts.
Considering the many important functions of alt text, adding them should be on every blogger's publishing checklist.
Here are some alt text best practices to try:
Include your focus keyword if possible – Alt text creates another opportunity to insert keywords into your post. That said, the key is not to force it. If you can't include your focus keyword naturally, consider its variations, or don't include them at all.
Be specific and add context – The more descriptive an alt text, the better. One of the best approaches is to imagine explaining the image in a conversation.
Keep it short – One of the main reasons for this is that many screen reader tools cut alt text off at the 125-character mark. Be sure to keep yours within this number to maintain an excellent UX for visually impaired users.
Make use of the limited space – Filler words like "this is a…" or "a picture of…" are not necessary. Simply start your alt text with the image's subject. You can save more space for important information by jumping straight to the point.
Leave decorative images as is – If a picture is uploaded for design or aesthetic purposes and provides no added value to the content, you don't need to add an alt text.
Let's see a good and a bad example of alt texts for the following image: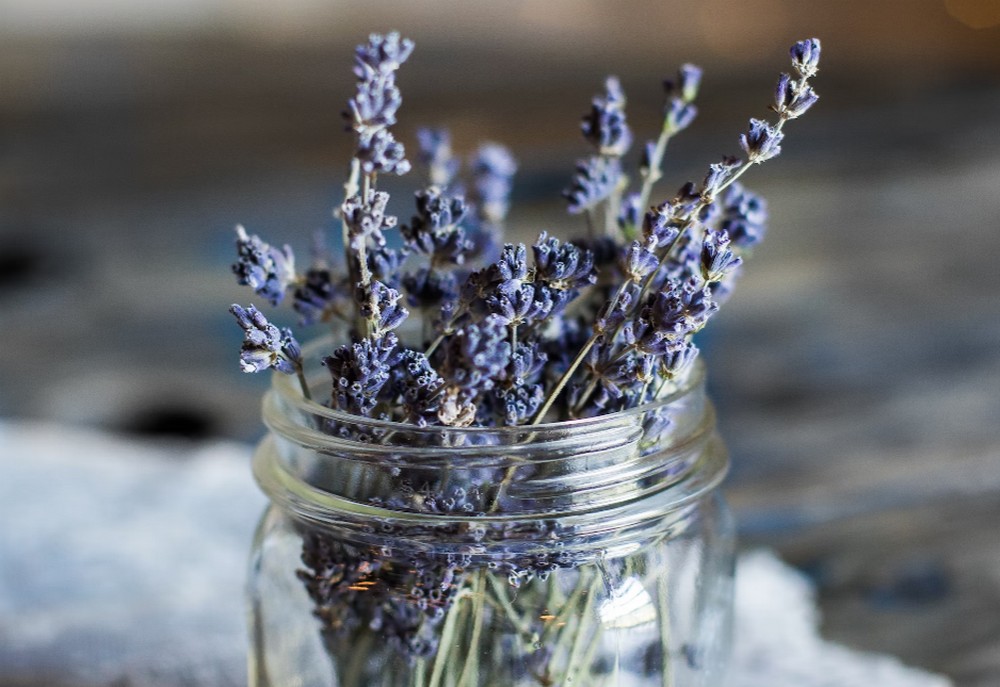 Bad alt text: A photograph of dried flowers in a vase.
Good alt text: Dried lavenders in a transparent glass vase.
10. Use keywords strategically
Using keywords strategically may sound tricky, especially with the challenge of not stuffing keywords throughout the blog content.
Firstly, you need to understand the structure of your blog posts.
To write quality content, a blog post should consist of an introduction, body, and conclusion. Within the content's body, there may be smaller sections indicated by headers.
Let's break each of them down:
Headers – Headers should contain keywords. Also, keep in mind to use the focus keyword in the content piece's title.
Introduction – This section should also contain a focus keyword. We recommend placing it as early as possible, for example, in the first sentence of the introduction.
Body – Where you can distribute the keywords and key phrases in your post. You can pick which keywords to use based on the section's topic.
Conclusion – Reuse some keywords to recap what the reader has learned.
Additionally, you shouldn't overlook adding keywords to the blog post's URL.
This is because URLs are one of the first elements that search engine bots crawl on a web page. It also gives them information on what the content is about.
11. Review content performance regularly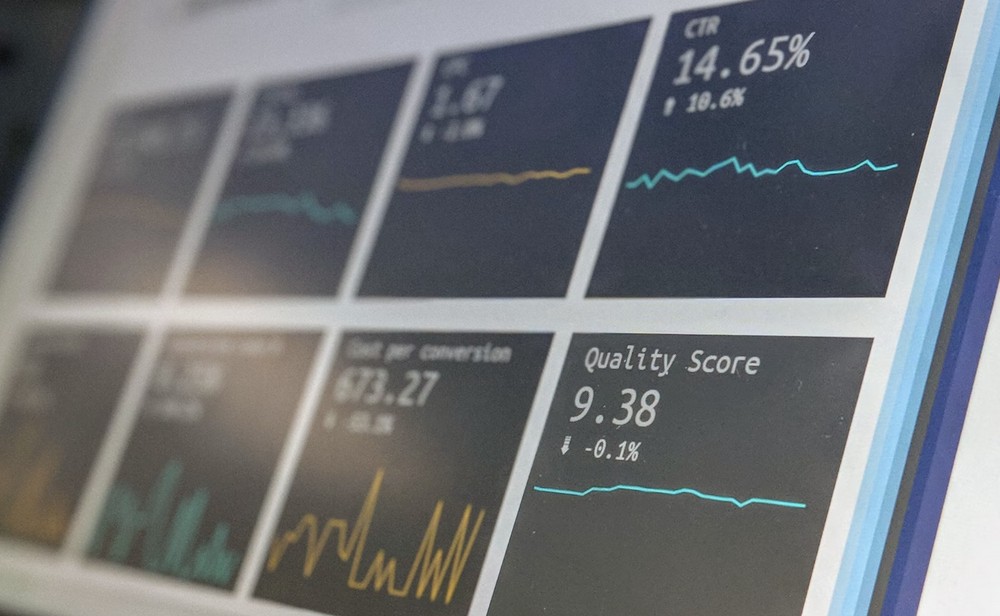 Content performance reviews let bloggers know if their blog SEO efforts paid off. It should be an ongoing process as it helps ensure you're on the right track.
Let's review some of the most important blog SEO metrics to monitor.
Organic traffic
As one of the main success factors, tracking organic traffic should be every blogger's priority. It represents the number of website visits from unpaid search results.
When measuring this, you'll need to see an upward trend in the Google Search Console to see if your SEO efforts paid off.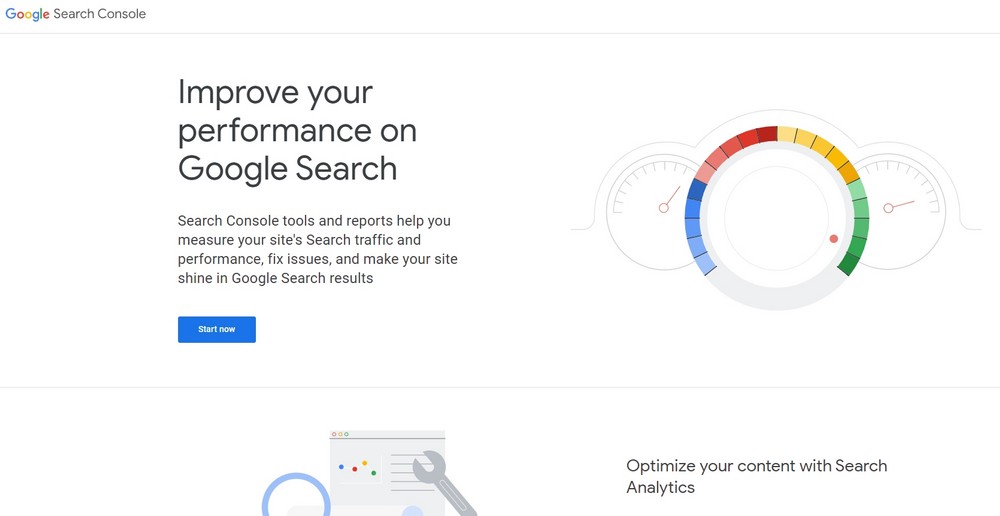 Fluctuation in organic website traffic is often unavoidable. In this case, you can track the month-over-month growth to determine your SEO success rate.
Keyword rankings
As you target specific keywords, tracking how well you rank for them is necessary.
This helps you determine what works and doesn't, so you can make better-informed decisions to improve your blog SEO and optimize content for specific keywords.
In general, tracking keyword rankings provides you with the following insights:
Organic search visibility – Showcases the estimated percentage of clicks for your targeted keywords. This is based on the overall organic ranking position, enabling you to decide whether further optimization is necessary.
The relevance of your keyword selection – Bloggers typically target keywords related to their niches. Unfortunately, some may make inaccurate keyword selections, often indicated by improvement in other aspects, like domain authority, but not on the target keyword ranking.
The general direction of your blog SEO efforts – If your head keywords rank well on search engines, relevant long-tail keywords will usually follow.
On top of everything, make sure the keywords most related to your products, services, or business rank well. This helps generate quality leads and improve conversion rates.
Organic click-through rate (CTR)
Your blog's CTR tells you the ratio between the number of people seeing your blog post in search results and the number of them that click the link.
The industry benchmark for a good CTR is anything over 2%. It is measured by dividing your total clicks by the total impressions.
For example, if 100 people see your blog link and three of them click it, your CTR will be 3%.
Creating a compelling blog title can help improve your organic CTR. Don't forget to implement the best practices discussed earlier in this article.
You can use Google Search Console to track CTR. We would recommend familiarizing yourself with how it works once you have the SEO basics taken care of.
Backlinks from referring domains
Backlinks are links leading to your page from other websites, whereas referring domains are the websites that link to any of your blog's pages.
To stay up to date on your blog's performance, make sure to track where your backlinks come from.
Having even a few backlinks from authoritative domains has much more of an impact than getting lots from average or low-quality websites.
Relevance is key though.
You should ideally attract relevant backlinks from relevant websites.
For example, if you run an automotive blog, you should ideally want to attract backlinks from auto manufacturers, car review sites and auto-related sites.
While unrelated backlinks still count, they aren't as influential as relevant ones.
We recommend the ahrefs tool for managing backlinks.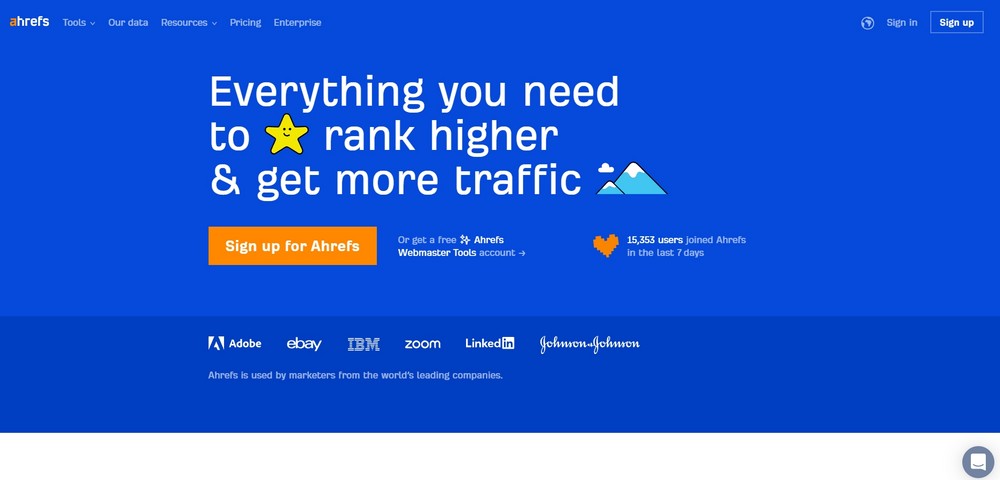 It's a premium tool that can help you with almost everything SEO.
Core Web Vitals
Core Web Vitals (CWV) include three user-centric, technical SEO metrics. In general, these relate to website speed and performance, which are crucial aspects for maintaining an excellent user experience.
Let's have a look at each of them in more detail:
Largest Contentful Paint (LCP) – When a web page's main content loads on users' screens. It measures the render time from when the largest text block or other website element starts loading. An excellent LCP is 2.5 seconds or less.
First Input Delay (FID) – Checks load responsiveness or interactivity of web pages. It measures how long a web page takes to respond to users' queries. A safe threshold for this metric is 100 milliseconds or less.
Cumulative Layout Shift (CLS) – Assesses visual stability or how often users encounter unexpected shifts in page layout. To deliver a better UX, aim for less than 0.1 CLS.
Monitor how strong your core web vitals are by running your blog through a speed test.
Google PageSpeed Insights and GTmetrix are two website speed test tool examples that provide data on CWV.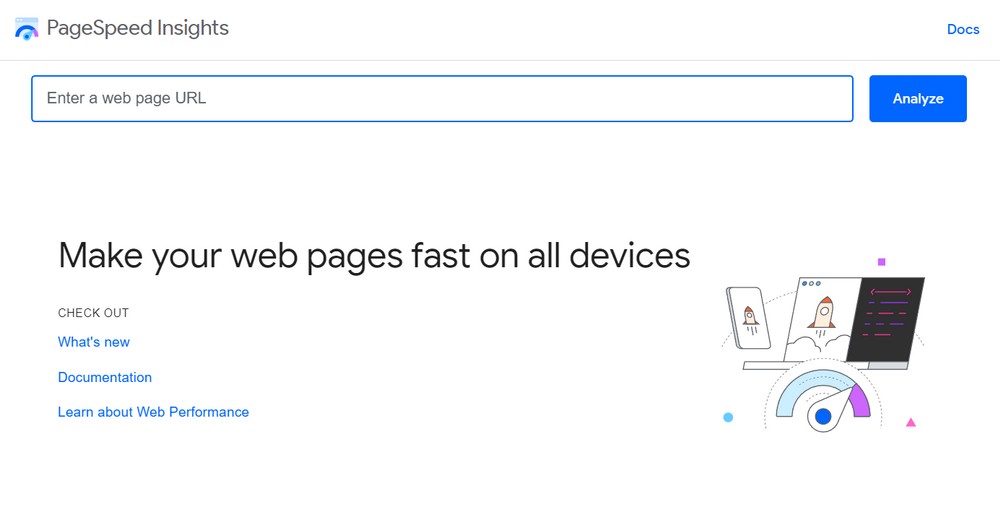 Indexed pages
Search engines will index a URL before making it appear on search results.
As indexing takes time, at least one week from when you submit a sitemap or an index request, your new blog post won't appear on Google search as soon as you post it.
You can track how many of your web pages Google crawls per day using Google Search Console.
This should tell you if your blog is on track or if there are any issues from the technical SEO side. Make sure that you have an increasing number of indexed pages every time you publish a new blog post.
Conversions
Keep in mind that conversions are not the same as sales. They can be any desired action that users make on your blog, like filling out a contact form, clicking a button, or enabling push notifications.
While it's still debatable whether conversions are an important SEO metric to track, they sure provide some insights into how well your marketing efforts run.
Especially with purchases, tracking conversions can give you valuable information about your revenue.
Even with actions that don't ultimately lead to revenue, monitoring them is a great way to identify potential issues on your web page.
For example, one of your CTAs generates more clicks than the others. If you don't track your conversions, you may not notice this issue.
Being aware of this enables you to evaluate your CTA strategy for better outcomes.
In this situation, you can conduct an A/B test to evaluate your CTA placement.
For this, you will need to create two variations of the same CTA and test them at random for a specified period. The variant that gets more conversions should then be implemented throughout the site.
Finally, since manually tracking all these metrics can take a lot of time, we recommend using an SEO reporting tool.
Besides making the process easier, such tools provide a unified data hub so you can analyze the numbers all in one place.
Some of the best options are Ahrefs, Google Search Console, and Google Analytics.
Conclusion
Blog SEO is a powerful strategy to help your blog posts rank on search engines.
It starts with keyword research and building a user persona, which leads to content creation and regular SEO performance reviews.
Here's a short recap of 11 blog SEO tips to implement:
Perform keyword research – This enables you to generate content ideas, find content opportunities, and identify trends.
Answer the reader's search intent – Create a reader persona to better understand your potential audience's search intent. Also, remember to answer the query immediately in your content.
Create an article outline – Create a basic outline of the post including headers, topics, user stories, targeted keywords and anything else you want to add.
Craft compelling blog post titles – Some of the best practices are to keep those titles less than 60 characters, include the focus keyword and not use clickbait titles.
Optimize your meta description – Meta data is vital to SEO and is one of many ways search engines assess and seek to understand your blog posts.
Add external and internal links – Both linking strategies offer benefits when done correctly. Internal linking helps with website navigation and indexing, whereas external linking helps improve content relevance.
Don't stuff keywords throughout the blog content – Instead of risking a penalty from Google, bloggers should take the user-centric approach when implementing blog SEO.
Include images and videos – Multimedia elements can help boost your blog posts' engagement rate.
Add image alt text – Some best practices include keeping them less than 125 characters, incorporating the focus keyword if possible, and making it descriptive.
Use keywords strategically – Place keywords around your blog posts in a strategic manner.
Review content performance – Measuring the performance of blog posts is key. You'll never know how effective your SEO efforts are unless you measure them.
There you have it – 10 tips to optimize your blog posts. We hope this article has helped you gain more insights into blog SEO. If you have any questions, don't hesitate to leave us a comment.
Good luck on your blogging journey!